Let us provide you with quality commercial roofing installation.
Your commercial roof protects your investment and the people who visit your building. Therefore, a few key things must be taken into account when hiring a commercial roofing installation team. Consider the following things to help you hire the right team in the Asheboro, North Carolina area.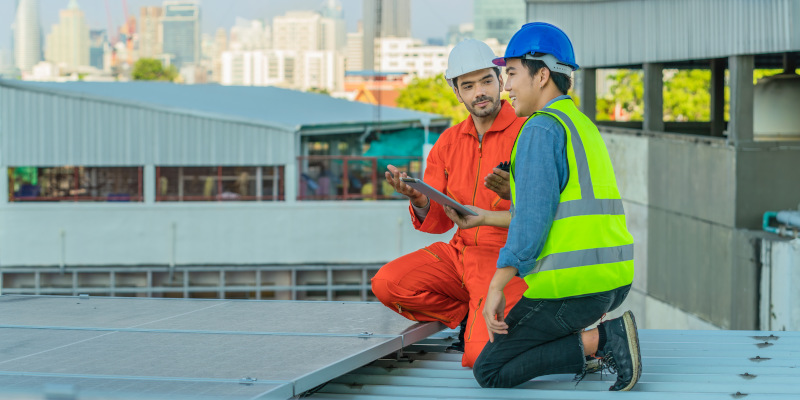 Look for a roofing contractor with a good reputation and experience in commercial roof installation. At McRae Roofing, Inc., we have skilled technicians on our team, many of whom have over 25 years of experience in the roofing industry. We also have a long list of references and examples of our previous work.
You also need to ensure that the roofing team prioritizes safety. Our team has won the Firestone Q Award for quality and are Star Safety Members in the NC Roofing and Sheet Metal Association. Also, we take the time to discuss your commercial roofing installation in detail, ensure your inventory and equipment are protected, and pick up any debris left by our installation.
Given our extensive experience, we know how to work with a wide range of different roofing materials and can help you choose the one that fits your needs. We can walk you through how long each one will last, how much energy it uses, how much upkeep it will need, and more. Commercial roofing installation isn't just about putting on what's easy; it's about ensuring you get the roof that meets your needs. This is also why we use high-quality materials, so don't hesitate to ask about the brands we use. We want you to fully understand the commercial roofing installation plan and be happy with the outcome.
When you need commercial roofing installation in the Asheboro area, contact our team. We have the experience, dedication, and customer service you need to ensure you get a quality product.
---
At McRae Roofing, Inc., we offer commercial roofing installation services for customers in Asheboro, Charlotte, and Raleigh, North Carolina.