Our team can take great care of all of your commercial roofing needs.
At McRae Roofing, Inc., we are a commercial roofing company with over 67 years in the business. Our team recognizes the differences in how to approach your commercial roof, which makes us an ideal choice for your commercial and industrial roofing needs.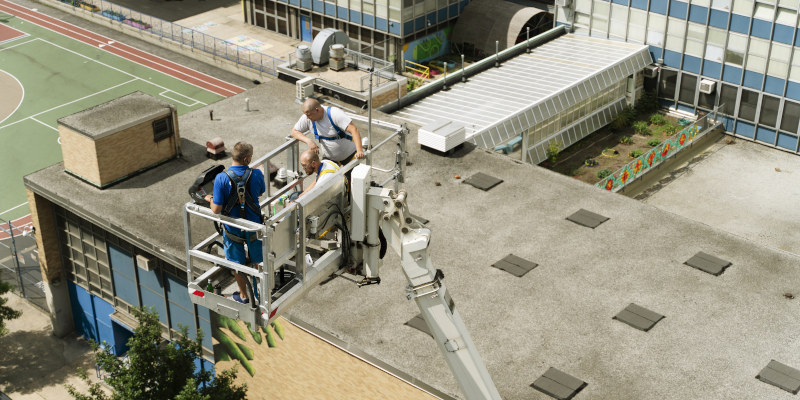 As a commercial roofing company, we have extensive experience and a vast knowledge of how to best install, replace, repair, and maintain your commercial roofing. We offer high-quality work that is done with every consideration for longevity. We'll work to make your roof stronger and more durable to be resistant to leaks and areas of weakness that can compromise the structural integrity of your commercial facility.
Our team is also well-versed with building codes, so you can be assured that we will do everything we can to comply with your local regulations regarding any work we do on your roofing. Since our field technicians are highly trained, we can offer our best professional advice on how to approach issues with your roofing and give suggestions for the best and highest-quality roofing materials to suit your needs.
We know your business and commercial space is important, which is why we work efficiently and effectively to limit any interruptions to your daily functions. We also make sure to get things done right the first time and on schedule. We are even available in emergency situations to give your roof immediate attention when a problem cannot wait. Neglecting a roofing emergency for even one day can cause additional problems that can result in more costly repairs and other collateral issues.
If you are looking for a reputable commercial roofing company for all of your commercial roofing needs in Raleigh, North Carolina, reach out to us. We stand behind all of our work and the products we use. Additionally, we strive to provide exceptional customer service and put your needs first. Give us a call today to inquire about how we can bring our expertise to your establishment and schedule with our skilled team of professionals.
---
At McRae Roofing, Inc., our commercial roofing company serves customers in Asheboro, Charlotte, and Raleigh, North Carolina.